Regular Show is an American animated television series created by J. G. Quintel for Cartoon Network .It's about Mordecai and Rigby who are groundkeepers in local park.Their regular is slacking off and their Benson is very strict.Regular show was premiered on September 6, 2010.The rating is 2/2.5.It has nominated many awards including Annie Awards and Primetime Emmy Awards for Eggscellent Season 3 Episode 17.The Characters are Skips,Mordecai,Rigby,Benson,Pops,Muscle Man,Hi Five Ghost,Thomas,Margeret,Eileen and Mr Mallayerd.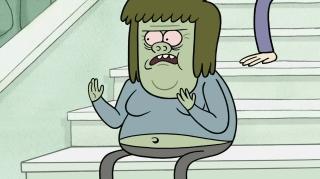 Ad blocker interference detected!
Wikia is a free-to-use site that makes money from advertising. We have a modified experience for viewers using ad blockers

Wikia is not accessible if you've made further modifications. Remove the custom ad blocker rule(s) and the page will load as expected.